Beatle Jive-Up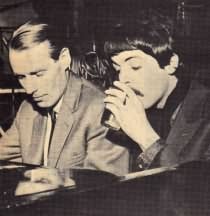 The mighty Beatles continue to roll on! Proving their unending brilliance with the recent release of their single record—Strawberry Fields Forever and Penny Lane—these McCartney-Lennon penned sides are but two of what, hopefully, will become a Beatles' LP of ten new hit tunes. The album was recorded during December and January in the EMI Studios in London, during which time "Oriental George" burned incense sticks of sandalwood joss. Penny Lane, by the way, is a street in Liverpool—and Strawberry Fields Forever is about a Liverpool approved school for girls. Brian Epstein commissioned 31-year-old Swedish TV producer Peter Goldmann to shoot a series of promotional films with the group on the record. Let's hope that these films are released in the States.
Through the smoke screen over whether the Beatles have busted up or not, the facts were made crystal clear by Paul McCartney himself when he made the flat statement, "Now, we are ready to go our own ways. We will work together only if we miss each other. Then it will be 'hobby work'. It's good for us to go it alone.
Be that as it may, the Beatles are still contracted to do one more movie together. The idea is to have John, Paul, George and Ringo each play four different parts of one man's character—which, oddly enough, will emphasize the Beatles' own separateness rather than their group identity.
---

PAUL'S "PROBLEM"
Meanwhile, back in Paul's Georgian mansion in St. John's Wood, he completed his 30-minute score for Hayley Mills' flick The Family Way, A & R man George Martin supervised and arranged the score for Paul.
One sad evening in mid-January, Paul had a farewell dinner with his longtime steady sweetheart, Jane Asher. On January 15th, Jane deplaned for the States, where she began a five-month tour with the Bristol Old Vic Company, doing several roles—including the female lead in Romeo And Juliet. When Jane was interviewed, as she departed from the Heathrow London Airport, she said very simply, "I love Paul. I love him very deeply and he feels the same—". When Jane was asked if she and Paul plan to marry and when, she said, "Yes, but we don't know when yet—it depends on a lot of things". The following day the press zeroed in on Mr. McCartney himself for a statement. Paul obliged them by saying, "If I ever marry anyone, it will be Jane Asher". But he emphatically denied that he is "…planning marriage, babies or anything".
However, Paul was soon to have a very definite problem on his hands—for a short time, anyway. A mini-skirted, 16 year-old fan named Elizabeth Beresford managed to finagle her way into Paul's home, where he gave her a cup of tear, chatted with her for an hour, and then drove her to her home in Fulham. The next day all the London newspapers were full of "Paul and I" type interviews by sweet (?) little Elizabeth herself. Jane, lady that she is, managed to keep her cool and didn't even bother to make a statement concerning this hanky-panky.
To add to Paul's troubles, the married couple who acted as his housekeeper and chauffeur handed in their notices. The reason: they could not stand the fans any more. Oh, well—sic transit gloria mundi. But don't worry: Paul still has his faithful sheepdog "Martha", and it could be that he and Jane will marry after she returns to London in May.
---

RINGO: "I WUZ ROBBED"
Ringo had a few little troubles of his own at his estate in Middlesex. He hired a contractor to landscape the gardens surroundinghis [sic] house. Mr. Gregory, the landscaper, gave Ringo an estimate of 2,500 pounds. Ringo finally reached his breaking-point when Mr. Gregory had the nerve to serve a writ against him to try to collect the rest of the money. (Oddly enough, the landscaping job still hadn't been finished.)
Ringo's lawyers counter-sued, charging that Mr. Gregory had "charged exorbitantly" for his services—indicating that if it had been an ordinary person and not a Beatle, the whole thing would not have come up in the first place. Poor, harassed Ringo emerged from the doorway of his estate one day to give a simple statement to the press, "He was doing a good job, but he charged too much."
Meanwhile, Ringo still has no plans for his future, and Brian Epstein is reading movie scripts for him at this time.
---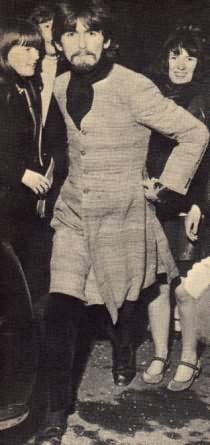 "GORGEOUS" GEORGE
The quietest Beatle has been George Harrison. The fact of the mater [sic] is—George has been spending most of his spare time at his home in Esher, still taking sitar lessons and studying ancient wisdom. He goes out very seldom (except to recording studios, of course) and entertains at home very quietly.
A new and constant companion has been Donovan, who—how's this for a twist?—is taking sitar lessons from George. Another frequent visitor is George and Pattie's friend Mama Cass Elliot, who has moved to England for six months.
When George does go out, his ardent fans (who still hang around his estate and the doors to the EMI Recording Studios) are amazed by his new look—which consists of a smashing new beard, Indian rajah-type coat (flowing down to his knees), a black silk scarf wound high around his neck and tight black velvet pants.
---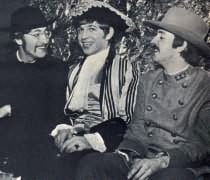 "PARSON" JOHN
Beatle leader John Lennon is more into the recording end of the Beatles' present life than into anything else. It is undeniable that his strength is felt in Strawberry Fields, and his unique philosophic approach to life is voiced in the repeated phrase that runs through that record: "Nothing is real—nothing to get hung about."
But John is also enjoying a very active social life. He caused quite a few square eyebrows to shoots straight up recently when he turned up at the 21st birthday party for Georgie Fame's fiancee, Carmen Jiminez, in Kensington dressed as a parson! Just in case that wasn't enough for the gawkers, John was also sporting some steel-rimmed glasses like he wore in How I Won The War, the world's second longest sidees (John Sebastian has the world's longest) and what can only be described as a Wild West gunman's mustache. On hand to share the festivities was Paul McCartney, charmingly decked out as a U.S. Army officer of the Civil War era—Confederate Army, of course.
Magazine: 16
Volume: 8
Issue: 12
Published: May 1967
Publisher: 16 Magazine, Inc.
Editor: Gloria Stavers
Page: 30–31