Our Naughty News and Hot Announcements
Listen! Each Beatle sounds off about the latest "goings on!" It's so extensive, exclusive—and intimate!
FLASH! Bulletin! Read all about it! The Beatles have some extraordinary and very scoopy things to confess! You'll be shocked, you'll be stunned! You'll be flabbergasted! But you won't be sorry you read them—not even for a second!
---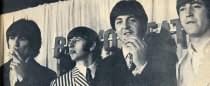 JOHN ANNOUNCES, "I'M DEFINITELY RETIRING!"
John, it seems, thinks of retirement quite often. In fact, every weekend and vacation, he goes into those times, he locks himself up in his house and becomes "involved in something"… maybe catching up on some science fiction reading or working on some sound technique or doing some sketching. And he forgets all about other jobs and responsibilities.
John confided, "I think I'm getting lazier and lazier as time goes by. I used to need something to keep me busy all the time. But now I don't. I can just sit around and relax. I guess that's good. At least, it shows me I've been successful enough to take it easy once in awhile."
When the controversy about The Beatles breaking up first began, people began buzzing. It was suggested that John, for one, would give up appearances and concentrate on song-writing. In other words, he'd retire from being an active Beatle.
John explained, "That sounds pretty good, when you think of it. I'd get all the benefits without getting pushed and pulled and mauled at concerts. It was very tempting. I'll say that much. But when you really think about it, it might be boring. I'm willing to settle for retiring between doing other things. That's good enough for me."
Maybe John will come up with a new kind of retirement—one that combines business with pleasure. What a way to go!
---
GEORGE SAYS, "I'D LIKE TO BURN DOWN MY HOUSE!"
When George first built and moved into his beautiful bungalow home in Surrey, he was a bachelor. True, Pattie helped him decorate and had some pretty good ideas on the subject, but for the most part, George had the last word. The house was his—and was a pretty good mirror of his personality, likes, and dislikes.
George told us, "That's why remodeling and refurnishing it now is such a problem. I've thought it over carefully and have decided that the house needs Pattie's feminine touch. Besides, we have to think about having a nursery built somewhere, a sewing room, that kind of thing. I didn't build the house along those lines with a family in mind. So it has to be redone."
The furnishings, too, are very masculine—lots of browns, heavy, massive furniture, dark drapes. It's not too feminine—not very much like Pattie!
George smiled and said, "I think it would be easier to burn the whole house down and start all over again." He smiled and winked. "I don't think the insurance company would approve, of course. But it would be easier. And that way, the Harrison house could be exactly the way both of us want it!"
Anyone for a great big bon-fire?
---
RINGO SAYS, "YES, THERE'S ANOTHER WOMAN!"
When Ringo promised to love, honor and cherish Maureen, nobody ever dreamed that he'd be writing love letters to another woman. But he is! And—imagine this—he admits it!
Ringo told us, "I'm proud of the fact I've got other women to keep me happy. After all, an old married man like me has to have some excitement, doesn't he? I'd have a pretty dull life otherwise!"
So every once in awhile (Like every other week or so), Ringo "sneaks" into a private place in his home and writes a passionate, romantic, love-filled letter. Sometimes he writes to "The Woman with the Long, Flowing Hair." Other time [sic], he addresses himself to "The Joy of My Life" or "The Most Beautiful Girl in the World."
When he's done writing, he seals the latter, sprinkles it with some of his favorite cologne and runs off to deliver it—in person!
The mysterious "other woman," as you've probably guessed by now, is none other than his wife, Maureen!
Ringo confided, "I don't think the man is the only one who needs romance and excitement in married life. I think the woman does, too. That's why I write those love letter to Mo—to show how much I love her. And to show that she's everything to me… wife, mother, friend, lover. I think she likes the letters, too. At least, she always gives me a big kiss when I write her one."
---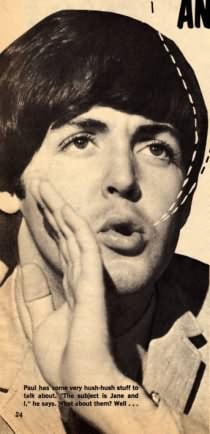 PAUL SAYS, "I'M MAKING SECRET LOVE-MOVIES WITH JANE!"
With Paul being so talented in all creative areas, it's no wonder that he's become interested in photography. And his favorite subject at this very moment is Jane Asher!
Paul confided, "I'd say my photos sessions with Jane are certainly labors of love. Se's so beautiful, with that gorgeous red hair, she's a joy to photograph!"
Very often, Paul will take Jane out into the country, to pose her with trees and flowers and running water. He'll take experimental shots, too, with different effects of lighting and strange angles.
"My favorites, though," he told us, "are the home movies I take of Jane, when we're just fooling around together. After we're married, I predict we'll spend many a happy time looking over those movies and joking about them. They're not exactly suitable for showing on your neighborhood movie screen, but they're funny and cute. And I like them. In fact, I love them!"
Jane, on the other hand, has announced privately that she'd like to turn the tables on her handsome friend and take some photos of him when he's not looking.
"I'll bet they'll be worth plenty," she laughs and says. "I could blackmail Paul forever!"
So if you've got a very tiny camera with some very tiny film, you know just where to send it. But don't forget to send us prints, too!
Magazine: Teen World
Volume: 10
Issue: 5
Published: April 1967
Publisher: Reese Publishing Company, Inc.
Editor: Elaine Moss
Page: 24–25